Yesterday, the New England Patriots victory parade was held down the street from our second story Boston office on Newbury Street on Boylston Street. All morning fans flooded in from around the country in order to help celebrate the recent Superbowl champions.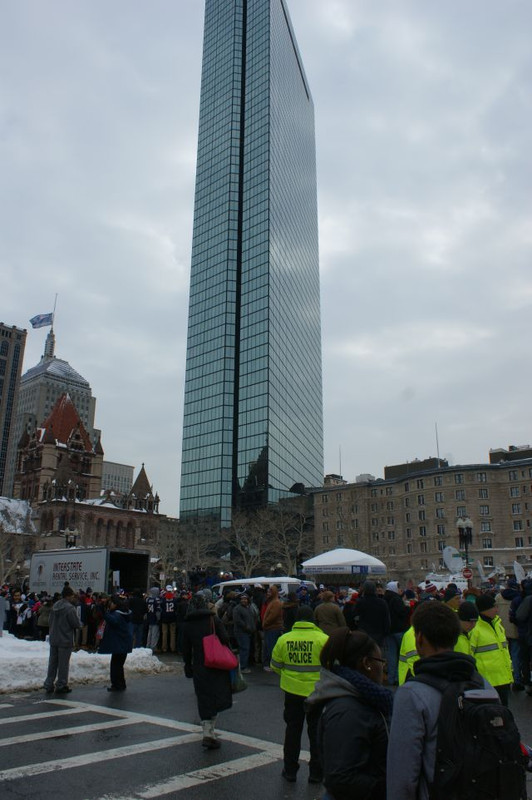 Due to the incliment weather, many of the streets in Boston were still full of snow, but that didn't stop fans from flocking by the thousands to watch and support their beloved Patriots.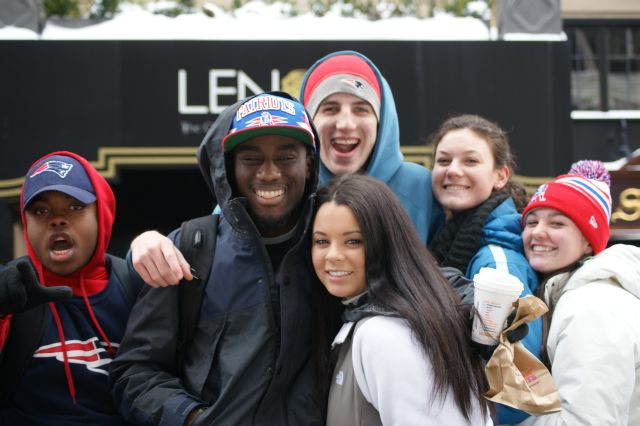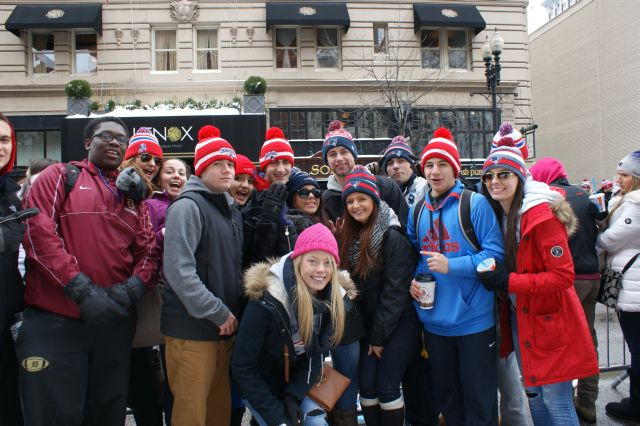 Thanks to the hard work of the Boston Public Services and police, the area was cleared and accessable to fans.
I went around and talked to many fans. Leslie and Sally of Springfield Massachusetts came early this morning in order to support the pats.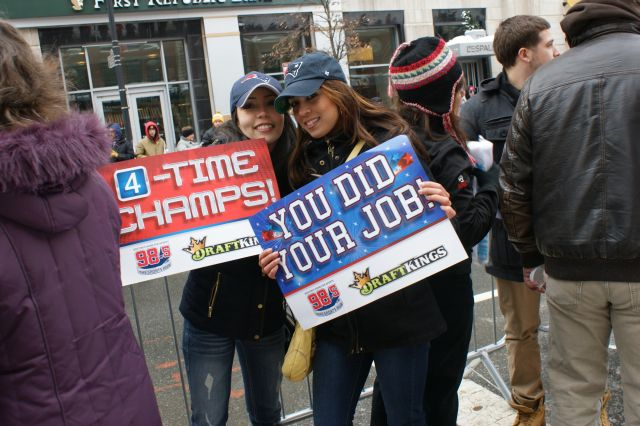 Having been Pats fans since they can remember, they were excited to finally see the Patriots in person on the Boston famous Duck Tour boats.
Just after 11, the buses dropped off the patriots near the Prudential Center where they boarded the Duck Tour boats. After mere moments the crowd began cheering as their favorite players came down street waving, and encouraging the crowd to cheer.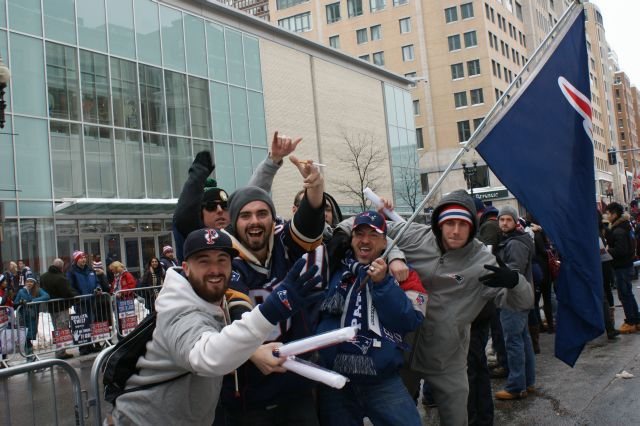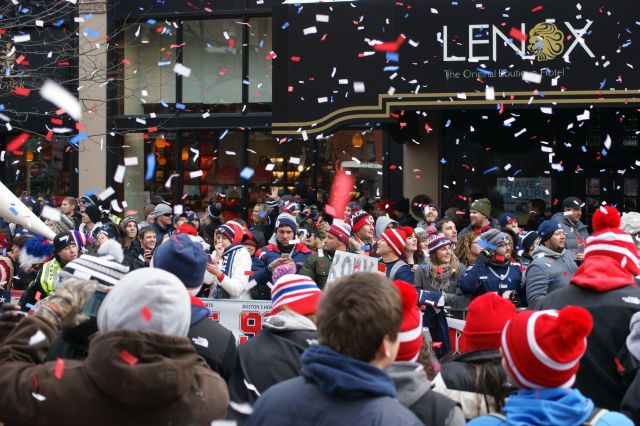 First in line was the Patriots owner,Robert Kraft, holding one of the Patriots Vince Lombardi Trophies.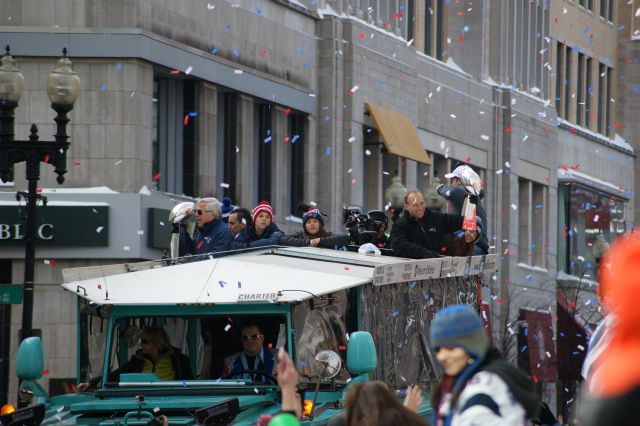 Everyone's favorite stars and their families were in attendance including Star MVP Tom Brady and his son Benjamin Rein Brady.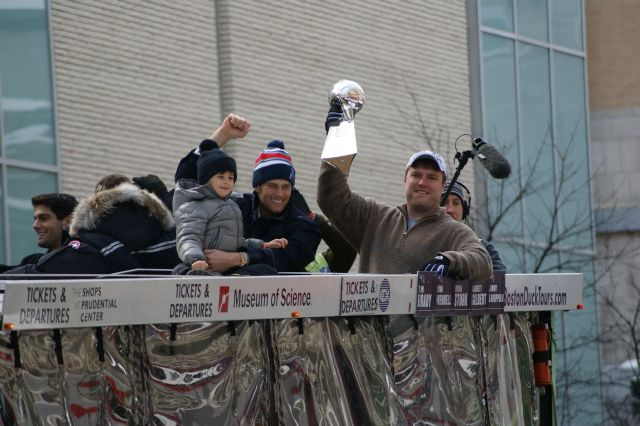 The atmosphere could only be described as intoxicating as everyone danced along to the music, while confetti was sprayed into the air. The red, white, and blue flowed through the streets as championship flags and penants were being fluttered by adoring fans.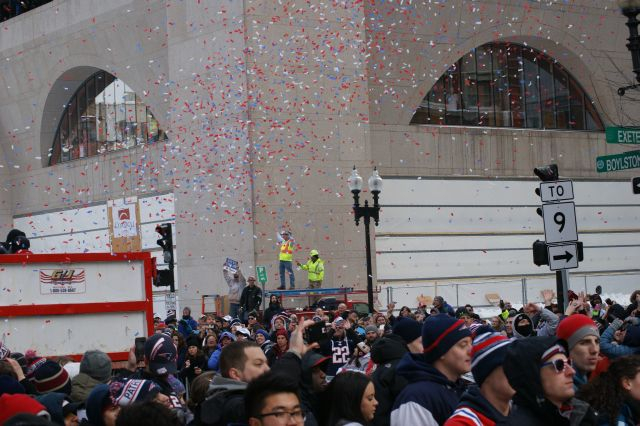 The city of Boston always holds great pride in their events, and this is why events in Boston are always a great experience.
For other great experiences in Boston, including the Duck Tours which were used for the Parade today, please come visit our office at 158 Newbury Street or call us at (617) 247-6373 or toll free at 1-888-946-4447. Also follow us on Twitter @HIS_Boston or facebook at https://www.facebook.com/hisnyc for annoucements about great travel deals.