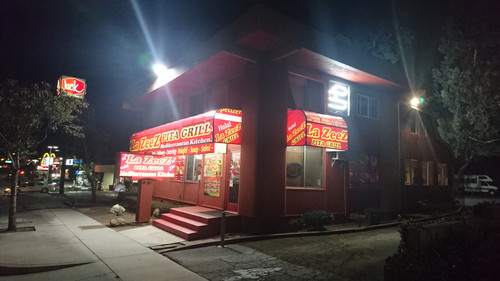 America is often called "The Great Melting Pot." That's a very good description for La Zeez, a mostly Mediterranean restaurant in Torrance, California. It has different things in the same place. Some exist in their original forms, but others mix with their neighbors to produce something new and quite good.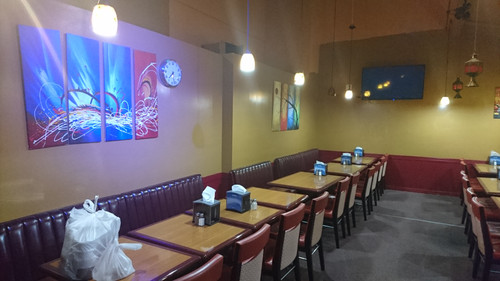 I know it looks small, but the decoration is kind of nice. On TV, they show American and British television sometimes. There is usually a lot of space to sit because many people take their food to go.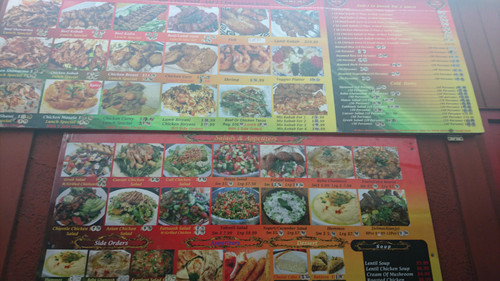 The La Zeez menu
is very diverse. They have American cheeseburgers, Mexican fish tacos, Indian
biryani
(spiced rice dish often with meat), and more. I'm sure those are tasty, but my family goes for the Mediterranean food, which is most of the menu. We've talked to the staff on their slow days and know that several of them come from Lebanon and Egypt. The food tastes like they use their recipes from home!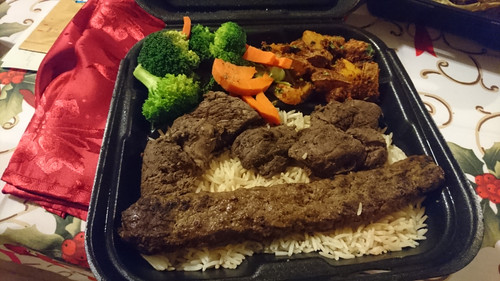 For example,
kafta
(a kind of long, spiced meatball/loaf that has many different spellings) has good Mediterranean flavors. It's not as bland as many American-Mediterranean restaurants might make it, but the spices aren't as strong as an Indian dish. The lamb kebab (between the kafta and vegetables) certainly would have no problem selling well in Egypt!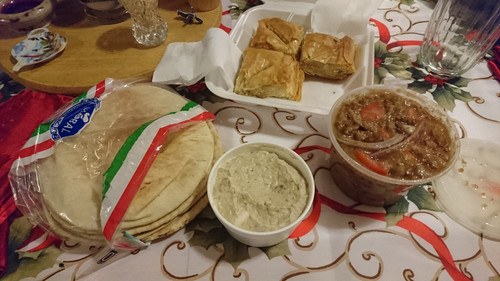 The
baba ghanoush
(a kind of mashed eggplant and sesame dish) is not only better than most American versions of it, but it's one of the tastiest ever. It's a favorite in my family, even among people who don't usually like it. I took a picture of it next to pita bread because they taste good together. The
foul moudamas
(cooked, seasoned fava beans) pictured on the right don't really taste Egyptian, but don't seem like American fava beans. They're also good with pita bread! If those don't sound good, just try the
hummus
, a kind of mashed garbanzo bean and sesame dip.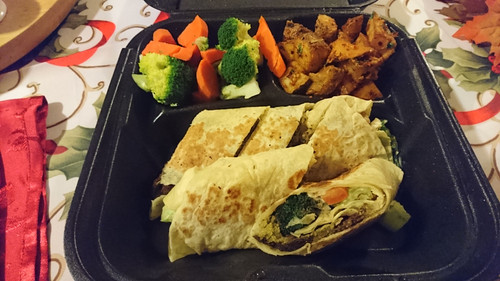 Some items are more unique though. For example, shami kebab is a kind of kebab similar to kafta, but made around Pakistan or Bangladesh. But at La Zeez, they make a shami wrap, so it seems like a Mediterranean burrito. You can even get it vegetarian style, with the same spices in a vegetarian patty! The idea seems very Southern Californian, but the tastes will make people from Egypt and nearby countries very happy.
If you like the food, you can say it's "lazeez." That means "delicious" in the Arabic languages spoken in many countries around Egypt. It's their version of 美味しい!
ーーーーーーーーーーーーーーーーーーーーーーーーーーーーーーーーーーーーー
La Zeez
【公式ホームページ】
【地図】
24時間オンライン予約可能!
アメリカ、カナダ、メキシコ主要都市お得なオプショナルツアー情報はコチラから

24時間オンライン予約可能!
現地初の周遊ツアーやホテルパックプラン等お得なランドパッケージツアー情報はコチラから